| | |
| --- | --- |
| | The contents of this page are to be released, and, as such, information may change upon the game's release. |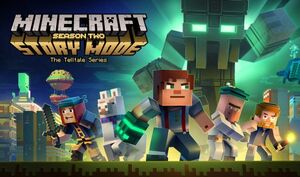 Season 2 of Minecraft: Story Mode is the sequel to Season 1 and the Adventure Pass.
Plot
Now that Jesse and the gang have vanquished the Wither Storm, saved the world, and become totally super famous heroes, life has gotten a bit more... complicated. With more responsibilities and less time for adventure, old friendships have started to fade -- at least until Jesse's hand gets stuck in a creepy gauntlet that belongs to an ancient underwater temple. Together with old pals and new comrades alike, Jesse embarks on a brand new journey filled with tough choices, good times, and at least one temperamental llama.[1]
Platforms
Android
iOS
PlayStation 4
Xbox One
Mac OS X
Nintendo Switch
TBA.
Episodes
TBA
Characters
Protagonists
TBA
Antagonists
TBA
Other Characters
TBA
Trivia
It was rumoured that Telltale Games might make a Season 2. The first piece of evidence was a Classification of "Hero in Residence", the first episode of the second season of the game.[2]
Season 2 will also include a "Crowd Play" feature, allowing others to vote on dialogue choices for the player using a streaming service.
Unlike Season 1, Season 2 will not be on the Xbox 360, PlayStation 3, or Wii U.
When E3 was happening on a streaming website named "Twitch," as Jesse is talking to Stampy Cat and Stacy Plays, Nell can be seen dancing in the background.
Season 2, unlike Season 1, has been confirmed to not have cursing.
Radar was confirmed to be Jesse's assistant by Eric Stirpe in an interview at E3 2017. He is planned to be played by Yuri Lowenthal.
Lluna, the llama's name was confirmed by Eric Stirpe, a writer for Telltale Games: File:LlunaTheLlamaNameConfirmination.png
Eric Stirpe confirmed Axel, Olivia, Lukas, and Ivor will be reappearing in Season 2 on a Tumblr. post: File:Axel, Olivia, Ivor, and Lukas Confirmed.png
It is confirmed that the player will be able to customize their clothes for their Jesse by Eric Stirpe: File:NewCustomClothes.png
References
Gallery
Ad blocker interference detected!
Wikia is a free-to-use site that makes money from advertising. We have a modified experience for viewers using ad blockers

Wikia is not accessible if you've made further modifications. Remove the custom ad blocker rule(s) and the page will load as expected.