"
Below the Bedrock
" is the fourth episode of
Season Two
of 
Minecraft: Story Mode
.
Synopsis
Our heroes take a journey to a long-forgotten land where nothing is quite what it seems and dangers lurks around every corner. Will Jesse's new alliances and friendships withstand the tests they'll face?
Plot
After narrowly escaping from the Admin's twisted prison, Jesse and the remaining fugitives discover not just a forgotten city but an entire hidden world buried beneath the bedrock. Though largely in ruin, the gang quickly learns it's not entirely abandoned, leaving them to win over wary inhabitants, face unexpected challenges, and pursue the real truth about the Admin's origins...
Characters
Deaths
The following information may contain Spoilers. Please proceed at your own risk.

---

Giant Magma Golem
Hostile Mobs
Choices
Did you accept the scavenger's deal?
66.5% of players didn't accept the scavenger's deal.
33.5% of players accepted the scavenger's deal.
Did you win the trivia contest?
79.5% of players won the trivia contest in Fred's Keep.
20.5% of players lost the trivia contest.
What did you say to Petra?
80.4% of players promised to stay with Petra.
17.6 of players promised to wait for Petra.
2% of players stayed silent.
Did you give Xara her bed?
87.5% of players gave Xara her bed.
12.5% of players didn't give Xara her bed.
Who did you bring to the surface?
66.1% of players brought Fred's people to the surface.
33.9% of players brought Radar to the surface.
Trivia
It was confirmed that the director for "Below the Bedrock" is Daniel Rosales.[1]
Telltale Games announced on Twitter and on their official site that "Below the Bedrock" would release on November 7th, 2017. [2] [3]
Key Art & Trailer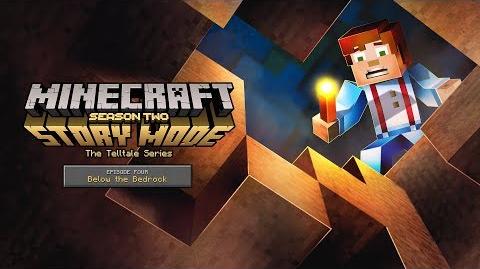 References
Ad blocker interference detected!
Wikia is a free-to-use site that makes money from advertising. We have a modified experience for viewers using ad blockers

Wikia is not accessible if you've made further modifications. Remove the custom ad blocker rule(s) and the page will load as expected.