| | |
| --- | --- |
| | This page contains information on a feature which is in Minecraft. Please visit the Minecraft Wiki for more information on the topic. |
A Beacon is a block in Minecraft: Story Mode that projects a beam of light when powered.
Appearances
Crafting Recipe: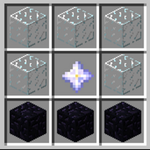 Trivia
In original Minecraft, a beacon is activated through single consumption of one of following materials: iron ingot, gold ingot, emerald, or diamond. No functional difference of which material is chosen.
Just like in Minecraft, the color projected by the beacon can be changed by placing stained glass above it.
In Episode 1, unlike most beacons, The Ocelot's beacon appears to be made out of gray stained glass.

This, however, could simply be that they had placed gray stained glass over the beacon and it replaced the normal glass.
Gallery
Ad blocker interference detected!
Wikia is a free-to-use site that makes money from advertising. We have a modified experience for viewers using ad blockers

Wikia is not accessible if you've made further modifications. Remove the custom ad blocker rule(s) and the page will load as expected.